TRANSACTIONAL ANALYSIS
Transactional Analysis is the psychological assessment of communication and the ego states associated with the way someone communicates in each situation. It's great to have basic understanding of these principles for a number of reasons.
With the use of TA and through understanding your behaviours, you can manipulate a conversation or discussion in your favour, by using the ego state corresponding to the one being used by the other or by using the ego state corresponding to your objective. You can understand your own behaviours and get yourself to the most opportune ego state for the situation. You can understand yourself and resolve your "favourite bad feeling".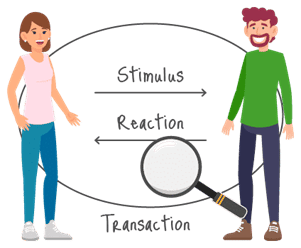 ego statES
This theory by Eric Berne looks at "Parent", "Child", and "Adult" ego states (internal parts), which remain active in all humans regardless of age. Berne believed that through identifying which ego-state one uses in a given situation, and by then using another state you can change the course of an interaction.
Also, psychological problems can be indicative if one of the states are overly or unnecessarily used in normal conversation.
The three ego-states Berne's describes are the Parent, the Adult, and the Child.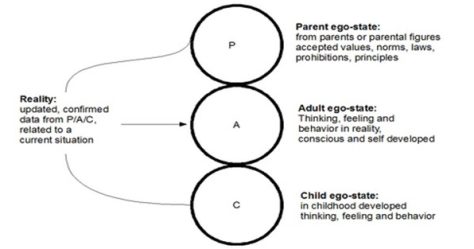 The Parent state refers to the unconsciously incorporated parental (or other authority-based) feelings and positions. The Parent state copies how you were parented or guided in childhood and often upholds the guidelines that were set then, with learned behaviours. This Parent state can be Critical or Nurturing.